Hydraulic trailer drive axle for retrofitting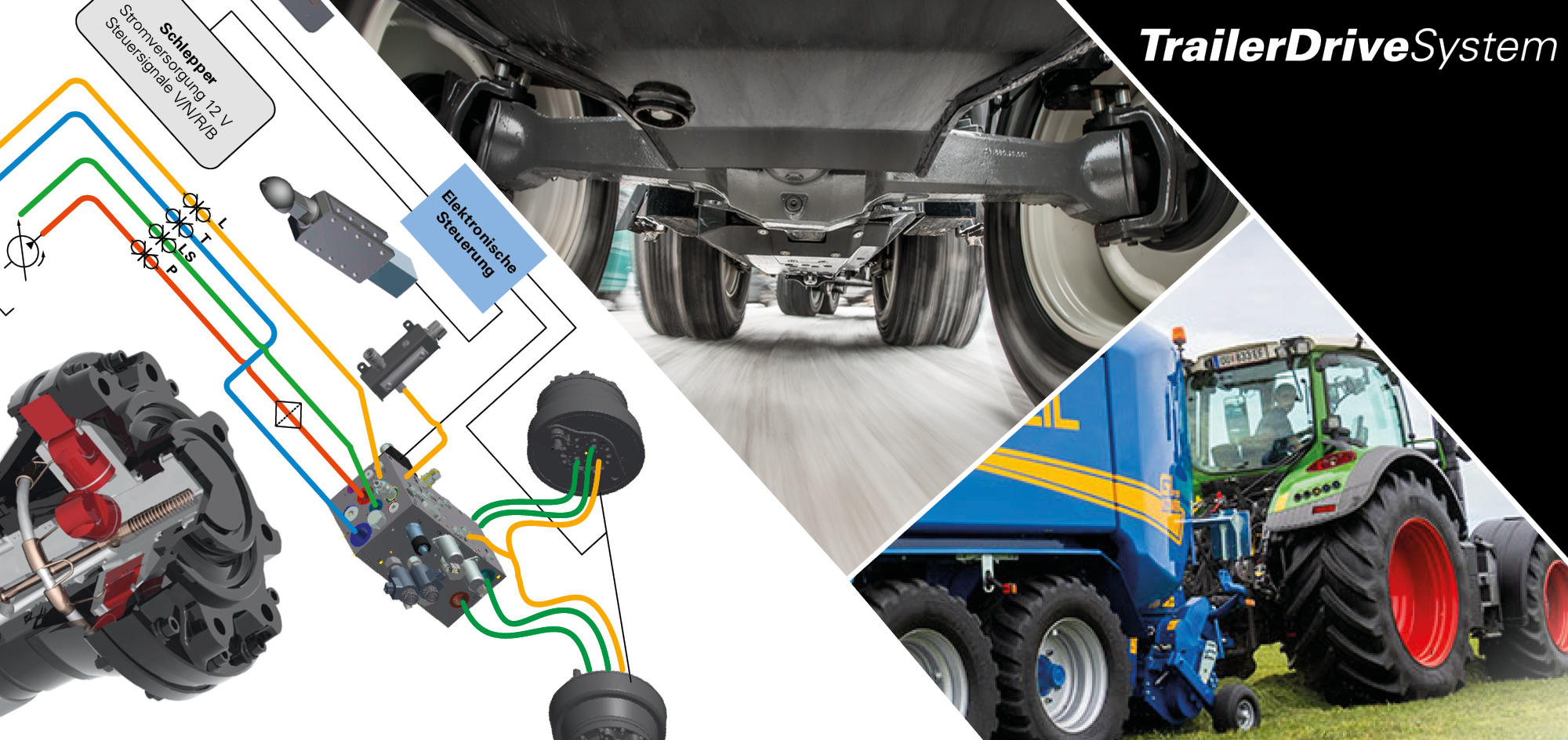 The decidedly all-around solution for more traction in the field

Heavy loads can experience problems with traction on impassable fields, wet soils, and slopes. The solution is a drive axle. "Trailer Drive System TDS", the hydrostatic wheel drive system for trailers developed by Paul Forrer AG with these problems in mind, has been met by the public with rave reviews for many years and knows how to perform under the toughest of conditions.
When the hydraulic wheel drive on the trailer is turned on, improved traction allows for previously impossible situations to be mastered with safety and ease. The hydraulic drive axle and its hub motors are the core elements of the drive, and are responsible for the torque and braking torque of the trailer.
For more off-road traction, the drive axle is the ideal solution.
We have developed numerous customer solutions over the past few years, and now offer our TrailerDriveSystem modular drive axle both for initial installations and for retrofits. This system is being used more and more on agricultural trailers such as round balers.
Advantages:
more efficiency via improved traction
even work on uphill slopes
more environmentally friendly, lower energy consumption
use a lighter towing vehicle thanks to the trailer drive
more security
excellent synchronisation of the trailer drive and braking function
soil conservation
apply the appropriate additional driving force to avoid turf and soil damage
Choose the right hydraulic drive axle control option for each use: the TDS-ECO is suitable as a short-term or emergency auxiliary drive, while the TDS-DRIVE is a partly synchronised drive control for prolonged use. The TDS-SYNCHRO patented system solution offers the highest level of comfort. It adjusts all the operating modes for the auxiliary drive independently thanks to its intelligent sensor technology.
The hydraulic system is usually powered by "Power Beyond" connections from the hauler or by its own on-board hydraulic system. Special radial piston motors provide the required thrust when working in the field, and can be switched to "freewheeling" mode on the road.
The TrailerDriveSystem in action: