In addition to our competent product range, we offer the following services: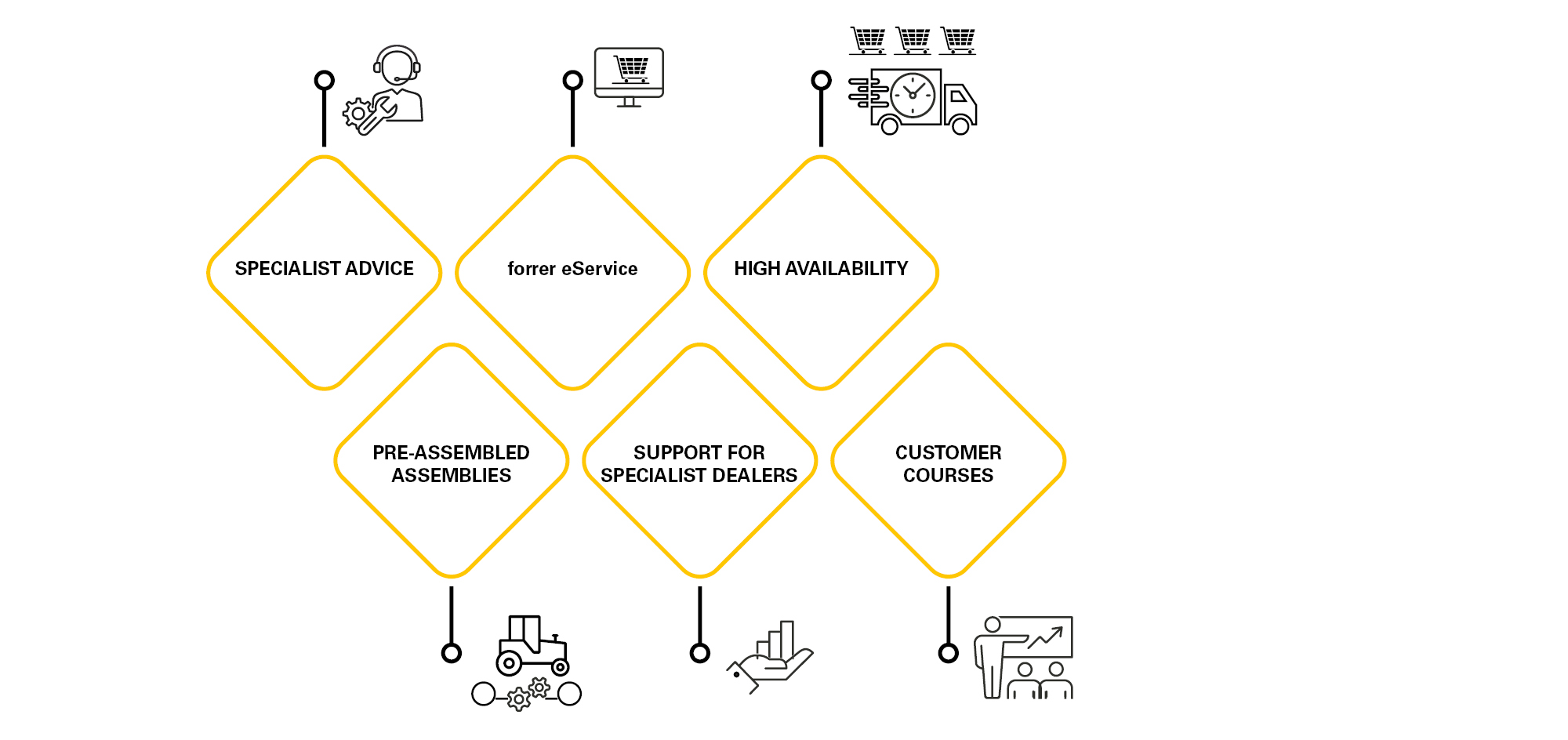 We take responsibility
Customers of Paul Forrer AG can trust that we take responsibility together. This is important to us, because good results can only be achieved with a responsible partnership.
Specialist advice
We speak your language!
Our employees are experts in their field. We pay particular attention to professional experience and expertise. Only in this way can suitable products be offered and complex problems be solved with the desired results.
Our solutions are tried and tested in practice - we vouch for that.
forrer eService
Use digitalisation for your efficiency!
Our extensive range of numerous electronic services is designed to make your work easier.
forrer eShop
In our online shop you will find over 48,000 articles with all the necessary technical data. A modern search engine guides you directly to your goal. A traffic light system also provides you with information about current availability in our warehouse.
forrer QuickScan
Our proven scanning ordering system (formerly forrer QuickScan) convinces our customers thanks to its simple and efficient application. All articles leave our warehouse with a barcode, which is the basis for your orders. Thanks to the practical scanner, you can place your order quickly, easily and without errors.
forrer eCustomer
Our digital customer portal offers you a wide range of information such as backorders with their delivery date, invoices, delivery notes. It also allows you to define and control your customer data yourself.
High availability
You can rely on our high availability of products and information.
Our ability to deliver is guaranteed at all times thanks to a large stock. Order today, delivered tomorrow. Thanks to efficient and modern logistics, you can always get what you need from us. Availability also applies to our employees.
In our eShop you will find all the necessary technical information for the correct selection and application of components and machines.
Pre-assembled assemblies
Well thought-out and practical pre-assemblies make your work easier.
We attach great importance to supplying you with assemblies that you can effortlessly assemble with informative instructions. Practical application advice is included with us.
Support for specialist dealers
Our products are not considered sold until you have sold them to your customers. Therefore, it is extremely important to us to support you with various sales measures. We are at your side with various sales aids, advertising and marketing measures.
We are happy to design flyers, banners or posters according to your individual needs.
Customer courses
We are happy to pass on our know-how!
Our training courses are comprehensive. We train customers and their employees, partners, authorities and associations in all areas of our business.
We currently offer the following technical customer courses at irregular intervals:
Hydraulics
Hydraulic valve technology
Hydraulic line technology
Trailer brakes
Hydraulic brakes
Air brakes
Power Tools
EGO battery technology and diagnostics
Kränzle high-pressure cleaners
Yanmar diesel engines
For information on the next course dates, please contact us by phone +41 44 439 19 19.